Being all decked up and walking up the aisle on your marriage day must be one of the most cherished dream for innumerable people. However, in case you are one of those who like to get wedded while all deckled up for the big day, here are four inspiration to fall back upon. While you can go for physical stores, there is no harm in looking at the latest jewellery designs online to pick that pretty pre wedding ceremony jewels.
Suresh Raina And Priyanka Chaudhary
2015 saw Suresh Raina, one of the top cricketers in India tie the knot with Priyanka Chaudhary. While the groom was looking handsome, it was the blushing bride who got the limelight. She matched the red lehenga with two heavy necklace. Both were gold studded with uncut diamonds and while one was sitting on the neck, the other was a longer necklace with a eye  catching pendant at the bottom and pearls on them.
Akriti Kakar And Chirag Arora
The beauteous singer Akriti Kakar got married with her beau Chirag Arora. While the wedding was a huge affair, the bride was looking extraordinarily classy in her traditional red attire. What stood out was her choker necklace in gold, studded with precious stones and the five layer 'rani haar' that had uncut diamonds in them.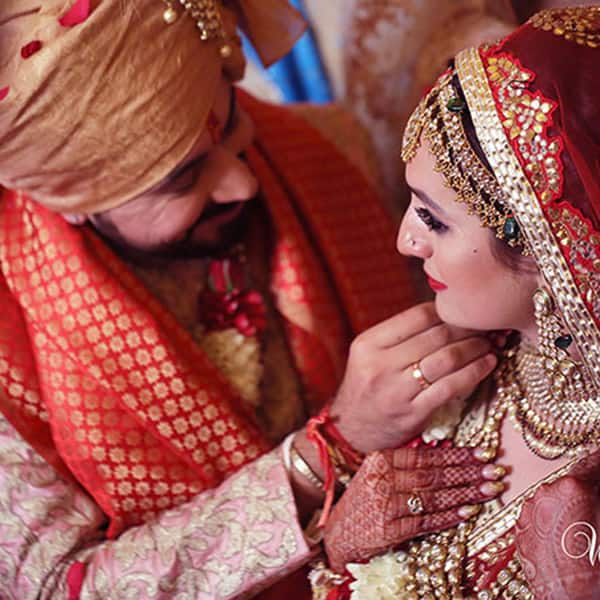 Sanjay Hinduja And Anu Mahtani
This was one of the most lavish weddings of 2015 where the bridal jewellery was the talk of the town. Anu Mahtani was wearing two extremely heavy, elaborate and ethereal necklace in gold studded with uncut diamond of the highest quality. The first one was a choker that covered her neck and the second was a seven layer necklace that complemented the choker necklace marvelously.
Divyanka Tripathi And Vivek Dahiya
This well known TV actress got married to her TV actor Vivek Dahiya recently. She sported two looks for two different ritualistic wedding and both saw her donning beautiful necklaces. One was a choker cum necklace in gold and set with uncut and cut diamonds, rubies and emeralds. The other was a diamond choker that went too well with the red and gold lehenga she was wearing.
Latest Indian jewellery is one of the best and brightest way of looking stunning on the wedding day and it is always the best way to stand apart from the rest.